I was looking for some posts on pulled pork earlier today and it occurred to me that we need to create an official pulled pork thread so things aren't scattered all over the place. It seems that we are moving that way with other cooking-related threads, so why not? In fact, I know a few people who lurk on this site for cooking tips, so organization can't hurt.
Pulled pork is nice because you can feed a big crowd and it is tough (but certainly not impossible) to screw it up. We hosted a lunch here today so I went to Costco and picked up a pack of two pork shoulder roasts. Nice and cheap (13 lbs for $24) and they were well-trimmed and looked like excellent pieces of meat. I took them home and cut them open to apply rub and noticed that one end of each roast was cut up (I wish I had taken pictures). My wife and I decided that they must have cut a bone out of each and then folded the pieces back together so that each roast had a rectangular shape. I thought about tying each up with some butcher twine but they seemed to hold together OK so I just left them.
I added a liberal amount of rub on Saturday, wrapped them tightly in plastic wrap, put them in a garbage sack, and stashed them in the fridge. I pulled them out on Sunday night and put them on the Traeger with a mixture of apple and hickory pellets at 11:30 pm. Since it is wintertime and the temps are cold, I can't count on much (if any) cooking on my smoke setting, which is normally ~180 deg but is lower than that this time of year. So I set the temp gage at 225 deg and went to bed. I checked them at 7:30 and the temps ranged from 185-195 depending where I stuck the thermapen so I pulled them out and put them in a big roasting pan with a cup or two of water in the bottom and put them in the oven in a holding pattern at 170 deg (simple yet effective version of foil-towel-cooler). I pulled them at ~2 pm just in time for our lunch crowd.
Both roasts were awesome. One was slightly drier than the other for some odd reason, but both were tender and moist. After pulling I poured some of the drippings over the pork. The crowd was delighted. We fed 25 people and had a little bit left over.
One of the roasts just prior to pulling:
Part of roast #1: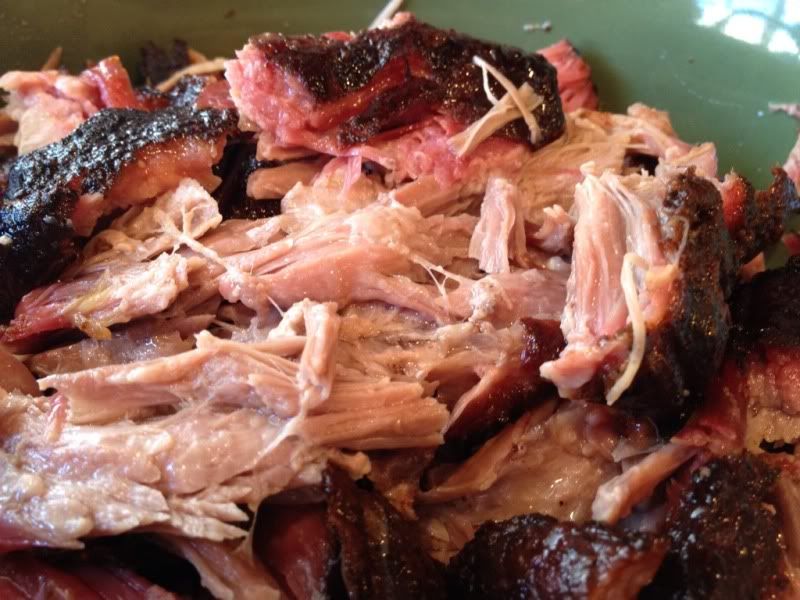 With slaw and rolls from Shirley's bakery: